The Policy of Bed Bugs in Hospitals: How Do Hospitals Deal with a Bed Bug Infestation?
The Policy of Bed Bugs in Hospitals: How Do Hospitals Deal with a Bed Bug Infestation?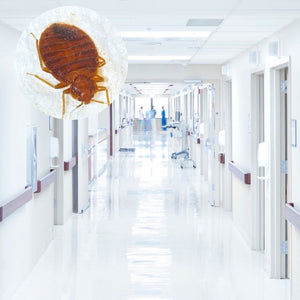 Anyone can contract and spread bed bugs anywhere. Aside from movie theatres, college dorms and apartment buildings, they can be found in public buses, taxis, as well as libraries. In addition, they can also be present in hospitals, thus the need for healthcare professionals and workers to strictly follow their hospital's policy with bed bugs.
Aside from residences, hospitals including nursing homes are among the places pest control companies have responded to because of bed bugs. Since there are homes infested by these pests, there is a high chance that they will bring these into the hospital even after a quick doctor's appointment. The three top ways on how these bugs get into healthcare facilities are:
Emergencies when hospital staff will have to pick up the patients straight from their homes.
Patients' personal belongings and clothing.
Visitors of the patients.
Given that these are unavoidable for hospitals it is necessary that the management strictly implements regular and professional pest control procedures to prevent infestations from happening.
The Risks Associated with Bed Bug Infestations in Hospitals
Dealing with infestations in healthcare facilities is more complicated than in residences. There are various business challenges that a facility may go through that can result in financial losses. Also, the presence of these pests is an indication of poor implementation of sanitation and hygiene protocols inside the facility. Furthermore, it can result in the discomfort and cause patients to worry. It can eventually put the hospital's credibility in question since the infestation is jeopardizing both employees and patients' safety and health.
The Recommended Steps for Pest Management in Hospitals
The main solution in pest control in hospitals is through creating well-documented plans to address the infestations. Once plans are created, everyone working in the facility must be informed and educated about them. This way, each employee has an idea of how to address any bed bug issues that may arise anywhere in the facility.
Since these pests don't have parameters, the level of infestation may grow within a couple of days. One of the basic things to do once any of the healthcare facility workers discover pests in a patient, it is necessary that the patient, as well as his belongings, are isolated.
Hope Bowman, Entomologist, B.C.E. recommends the following for hospitals to consider doing to prepare for these pests:
Educate all employees about the pests. Proper identification is one way to prevent an infestation while in its early stages. This can effectively work in positively identifying the insects and isolating potential effects.
Create a committee that will deal with bed bug issues. The committee will be responsible for packing and isolating infested clothing to the selection of the proper bed bug management partners. Another internal committee must be created to strictly implement the bed bug policies in the hospital.
Practice caution when working with outside agencies. It is essential to complete regular inspections, especially when dealing with agencies associated with certain hospital services. Identifying possible sources of these pests early on is effective in preventing an infestation.
Ask for a comprehensive guideline from professional pest control personnel or companies. Your main goal is to learn how you should respond to bed bug issues properly, especially in healthcare facilities.
Any business can share this issue, but it is important that healthcare facilities practice preventative measures as hospitals and bed bugs should never go together. The unexpected influx of people in these facilities can make it easier for these bugs to build their colonies and infest. It is also crucial that all parties involved will cooperate in the process. Letting all patients and residents know that you have bed bug control plans will help to make everyone feel comforted and at ease in the facility.
Additional Tips:
Using bed bug mattress encasements can help to prevent bed bugs from getting in hospital beds and hiding in mattresses.
Bed bug vacuums and steamers are effective devices that must be used regularly to maintain a sanitized and bedbug-free facility.
Stock up with water-soluble laundry bags for clothing and bedding to prevent spreading these pests around the hospital. Safely wash them in high heat to isolate any potential bed bugs.