Will Vacuuming Kill Bed Bugs?
Will Vacuuming Kill Bed Bugs?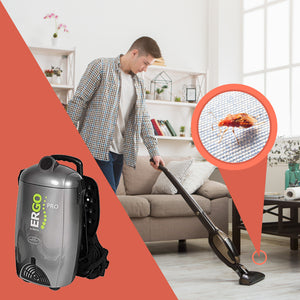 Ask pest control companies and they will surely tell you that eradicating a bed bug infestation quickly is far from being simple. So far, hiring the best pest management company is still the best solution to successfully control and get rid of bed bugs.
The only downside is that this form of bed bug control is often expensive and not a lot of people can afford it. If your budget doesn't allow you to seek professional help and you wish to try to handle the problem on your own, some things can be done. With patience, diligence, and hard work, you will have a good chance of eliminating these bugs from your home.
Vacuums can be of great help in reducing the numbers of bed bugs in specific areas, particularly if these pests are present in clusters or groups. Vacuuming, however, is not 100% effective yet it still lets you capture these bugs.
Should You Vacuum for Bed Bugs?
Techniques and tools for controlling bed bugs that don't use any chemicals, such as vacuuming, is one of the key components to effectively address the problem. Again, vacuuming alone is not enough to eliminate bed bugs, possibly except if the infestation is new and very limited. Vacuuming is often used together with other non-chemical controls and insecticide treatment.
Vacuuming lets you:
Get rid of bugs resistant to insecticides
Eliminate large clusters or clumps of bed bugs fast or physically remove isolated ones
Control bugs on materials or in sites where it is not effective, safe, or practical to use insecticides
Reduce use of insecticides in badly infested areas that might otherwise require repeated treatments
Provide alternative effective method of control in areas with bad clutter
Remove shed skins, dirt, dead bugs, and other types of debris that will improve the insecticide treatment's effectiveness and create a clean slate for your follow up inspections
Timing is important here. Vacuuming will only be most successful before the bed bugs are disturbed as well as while these are still clumped together. They can become harder to dislodge with your vacuum cleaner as these cling strongly on rough spots such as fabric and bare wood. The least susceptible stage for vacuuming is when they are still eggs since these are coated with the transparent cement-like material that attaches to majority of surfaces.
Tips to Effectively Vacuum Bed Bugs
A game of hide and seek or a comprehensive investigation around the house can give you conclusive insight of the areas where these bed bugs and their eggs might be lurking. After locating them, you can start working with your vacuum but remember that you can have greater success if you use stronger suction. This will help you remove the bugs hiding in rips, tears, cracks and crevices.
You will also need to be methodical and thorough and avoid being tempted to vacuum forcefully since the last thing you like to happen is to scatter the bugs all over the room. Controlled but firm vacuuming will let you scoop up the bugs from surfaces and prevent them from escaping.
Make sure you handle your vacuum with extra care. It is recommended to recheck every area and repeat the procedure several times as you deep clean all your soft furnishings and bedding.
Will Bed Bugs Live and Survive Inside the Vacuum?
While it is recommended to use a vacuum to kill bed bugs, make sure you empty it or else, the bugs will stay alive inside the vacuum. But, how long will they survive there?
Again, you can't kill these bugs by just vacuuming them. They can still survive inside the vacuum for more than 6 months with no foods. They also don't require water to live. However, they won't choose to stay inside the cleaner. Instead, they will try crawling out to look for a host for their meal.
It means that you have to be careful when it comes to carpet dry cleaners, steam cleaners, or rented carpet cleaners. You can get bugs from such items.
What Type of Vacuum is Best for Bed Bugs?
A bagless vacuum cleaner is often a better option compared to one that comes with a vacuum bag. This is because you can empty it out easily. These cleaners often come with a simple folding door or a sliding mechanism for pushing out the dirt.
If you do use a vacuum with bag, you have to dispose of the bag every time. This can prevent bed bugs from scattering easily. However, this will not be efficient and can even be a complete waste of money.
When using a vacuum for killing bed bugs, it is ideal to empty this outside after every single use. It will prevent the bugs from crawling out through the vacuum hose. It is applicable for both bagless vacuums and vacuums that come with a bag.
Highly Recommended Vacuum Cleaners for Bed Bugs You Can Try and Why You Should Get One of Them
There are a couple of highly recommended bed bug steam cleaners that are worth trying. The following are some of the best ones you should get:
This works like your ordinary vacuum but is more powerful with a cleaning power of 1,400W. It contains bed bugs and prevent them from spreading across your home. Since it is designed like a backpack, you can carry it easily in different parts of your home without worrying about weight. Also, it comes with various accessories you can use to reach even the narrowest and hard to reach areas in your home.
With this bed bug vacuum cleaner, you get a powerful vacuum cleaner that you can carry effortlessly anywhere in your home. This is an alternative for the PRO version of this vacuum cleaner. It is still powerful and works effectively in containing bed bugs while making sure that all surfaces are left clean and spotless.
Another powerful option you can try is this one. Omega Green Supreme IPM HEPA Vacuum can be used in both commercial and residential establishments. It boasts an amazing suction power that makes it a powerful tool for capturing and containing bed bugs in all stages of their life. Along with its accessories, you can use it efficiently for your bed bug issues.
Check which one has the features that will help you and pick the one you'll try as you deal with bed bugs.