Seeing Bed Bugs in Bathroom
Seeing Bed Bugs in Bathroom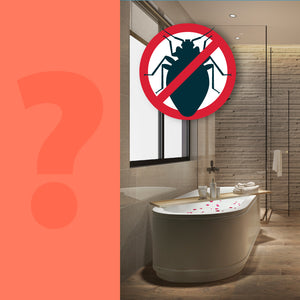 You have to make sure that you are not bringing unwanted souvenirs back home. Whether you are visiting your friend, commuting or going home from the office, you don't want to bring bed bugs back home accidentally. That is why you should take a bath or shower after returning from work or wherever you have been. 
Bed bugs hate water because they can't swim for a long time and eventually drown. These bloodsuckers don't have enough strength to hold onto your skin or hair. However, bed bugs are much more likely to hide in your bag or clothes. You should not rely on just showering or taking a bath to prevent a bed bug infestation.
Should You Worry About Bed Bugs Even After Taking a Bath?
Bed bugs are not able to grip your skin if you take a bath or shower. This means that you don't need to worry about them staying on your skin after you wash. Bed bugs won't be able to infest your hair either. These pests thrive in the cracks and crevices of your walls, in your furniture, bed frames, or your mattress or box spring.
Since they can stay in your mattress, the use of a bed bug mattress cover is necessary to keep them off your bed. A mattress protector will also prevent bed bug bites that may develop into serious infections if not treated properly.
If you are accidentally bringing home these critters, it's possible that it attached itself to you or it got caught in your hair. Since these bugs love hitchhiking, it is also possible that they are hiding in your bag or clothing. Why is it that these bloodsuckers cannot hold onto your skin after you wash? It is because of the way they feed.
Bed Bugs Drown!
The Journal of Economic Entomology published a paper highlighting the fact that bed bugs need oxygen to survive. If they don't have access to oxygen, they will suffocate fast. This is why bed bugs drown, particularly in hot water.
Washing machines can kill bed bugs because of the movement and heat of the water and the fact that these pests can drown. These factors make washing machines deadly to bed bugs.
Dryers can also kill bed bugs because they are extremely hot. These bloodsuckers cannot survive in temperatures over 113ﹾF and dryers a perfect environment to kill bed bugs.
Bed bugs stay near their host to make it easier for them to have easy access to their food source. They will not have any motivation to enter the bathroom since no one is sleeping in there. Aside from this, bed bugs are not fond of crossing certain surfaces. For instance, ceramic and porcelain are too smooth for them to climb on. Bathrooms usually don't have a lot of hiding spots that they can easily and quickly accessible.
Is It Possible to See Bed Bugs in the Hotel Room Bathrooms?
Though it is unlikely for you to see them in the bathroom, keep in mind that these bugs can hide almost anywhere. They can hide in the narrowest spaces even inside the bathroom, where they can't be reached by water.
Infestations may also affect bathrooms, but these bugs love to stay in areas where they can easily access their meals. So, it is less likely for you to get them from bathrooms. This is also the main reason why experts recommend placing your belongings inside the bathroom before inspecting the room for the presence of these critters.
You will never know if your room has an infested bedding or not upon entering. Don't put your belongings on the bed during an inspection. By doing so, you can prevent bed bugs from hitchhiking on your luggage and other stuff during your stay.
Also, putting items that you'll be bringing back home in plastic bags is a good way of preventing any of these bugs from escaping and spreading in your home. A bed bug treatment can also be done to make sure that you get rid of the bugs that accidentally escaped as you come home.
Dealing with Bed Bugs
There are different pest solutions that you can try to deal with bed bugs. Pest management is not only limited to areas where these critters thrive. You can also place traps and other detection devices inside bathrooms to make sure that you got every part of your home monitored.
Though these bed bugs don't transmit diseases, their bites can cause infections and different allergic reactions to some. This is why proper treatment is crucial to get rid of the pests completely.
Among the popular and effective solutions is the use of heat treatments. Unlike other solutions, heat-treating your home is not only effective in killing bedbugs hiding in dry parts of your home but even inside the bathroom. This means that you get an all in one solution to deal with these bugs.