Bed Bug St. John's - In the Province of Newfoundland
Bed Bug St. John's - In the Province of Newfoundland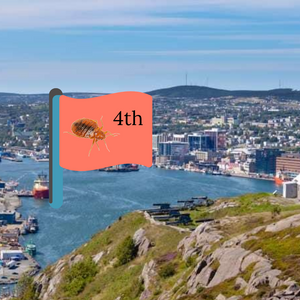 Among the cities that are always on the top 5 list with bed bug problems is St. John's. For the past few years, it has been noted that bed bugs have been haunting a lot of Canadian cities. Unfortunately, St. John's is among the cities most affected by it and now takes over the 4th place. 
Orkin Canada releases a yearly report on these cities and compared from the previous year, St. John's moved to a lower rank from being 3rd last year. Being a less populous city, there some who wonder why there is a high percentage of bed bug infestations in this city in the province of Newfoundland and Labrador. 
The basis of the report made by the pest control company was from the number of treatments they provided for residential and commercial establishments. Since the capital city of Newfoundland ranked lower than last year, this only means that they made some improvements in handling infestations. 
Most likely, the city had lower treatments requested from the company for the whole year, which lowered their ranking. 
How Did the City's 
Court Building
 Once Handle a Bed Bug Problem
 Before
?
There was once a bed bug problem that started in the court building and was dealt with right away. It started when a bedbug was first detected in the holding cells back in 2012. 
Upon learning, a dog trained to detect bedbugs was brought inside to search the premises thoroughly. After this, more bugs were found, which means it requires quick action. 
Based on the news release, Chief judge mark pike says officials have already talked with a local pest control company and discussed the plans on how to eradicate bedbugs at Atlantic Place. Once the fumigation was planned, another search was done by using dogs and specialized technicians. 
The affected areas were treated by vacuuming, steaming, and spraying. It took about 2 days for all the treatments to be done. After these, occupational health and safety inspectors have visited again. However, Pike says bed bugs should not be considered as a valid health and safety concern. 
Though the bed bug problem was addressed, it was not given as much importance. This can be one of the reasons why people did not take the pest problem seriously. After years, it only resulted in the rise of bed bug infestations, which placed the city into the top cities in Canada with the worst bed bug problems. 
Ways to Address Bed Bug Infestations Properly
When travelling, it is recommended that you always make a "vicinity check" in your hotel room or apartment. This will help you detect whether you are about to stay in an infested place or not. 
If you have confirmed the presence of bed bugs, make sure that you ask for another room that is far from your first room. You can ask them to transfer you to another floor, if possible, just to stay away from possibly bringing the bugs home. 
As soon as you come home, make it a habit to strip down and toss your clothes in the dryer and set it at the highest temperature. Bed bugs die at a temperature higher than 45° C. This means that these bloodsuckers will die immediately after an hour or so of running your infested clothes or belongings in the dryer.