Bed Bug Oshawa: 8th Among Bed Bug Infested Canadian Cities
Bed Bug Oshawa: 8th Among Bed Bug Infested Canadian Cities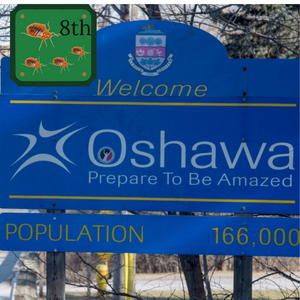 Among the worst cities with bed bug problems that unbelievably rose to a higher rank this year is the city of Oshawa. The city has now climbed up to the 8th spot and surprisingly moved ranks higher than the previous year from the list created by Orkin Canada. 
Back in 2018, the city was in 14th place from the top 25 cities. The pest control company gathers all the data and ranks the cities based on the number of treatments they were asked to perform. All treatments garnered were both from residential and commercial establishments. 
The new list shows that Oshawa now has one of the worst problems when it comes to these critters in the country. It is now one of the cities in Ontario that made it to the top 10. 
The Unexpected Re
s
urge of Bed Bug Infestations
It is given that bed bugs are great hitchhikers. Once they get an opportunity to transfer from one place to another, they will immediately hitch a ride.  
Since these critters crawl fast, you will never know that you already have them and accidentally brought them home. This is the main reason why it is essential that you also observe precautionary measures when coming home after going to public places or from a recent trip. 
It has been decades when the problems for these pests were almost resolved. However, there was an unexpected resurgence and caused a continuous problem to many large cities as well as urban areas. 
As experts say, as more people go from and to a high-density location, there is a bigger potential of developing bigger bed bug problems. They can come from individual homes and easily spread to these high-density locations. At first, they may find a place in this location and as soon as they grow in number, they will start hitchhiking and go to other places. 
Aside from homes and public places, these critters are also common in motels and hotels. If not careful, you may end up getting these pests and bring them to your home. 
Ways to Prevent Bringing Bed Bugs to Your Home
There are simple yet effective ways in preventing these bugs from getting inside your home. Some of the things that you can do are the following: 
When coming from public places, strip off in the garage and throw your clothes in the dryer in the highest heat setting for at least 30 minutes.

 

Heat treat

 your belongings and all possible items you can heat treat that you are about to bring inside your home.

 

When coming home from a trip, empty your luggage in the shed or garage for a couple of days before bringing them in. You can also heat treat items 

first. Also, wash and dry the clothes you

 are

 bringing from travel in a high heat setting.

 

As much as possible, avoid getting second-hand furniture as these are common sources of these pests. If you

 will still bring in second-hand items, 

you should

 have it heat treated or sprayed with bed bug sprays before placing them anywhere inside your home.

 
To avoid a bed bug infestation from happening, you should practice these preventative measures. In case, an infestation breaks out, calling for a bed bug exterminator is the best solution to get rid of these critters.